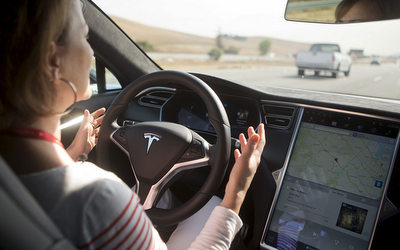 Last month Tesla announced its plans into the sharing economy (we recently posted about Maven, GM's car sharing service).  The car manufacturer expects to launch a platform that will allow its customers to share their own vehicles.
It is estimated that private cars spend 97% of the time parked and Tesla intends to take advantage of that. The service will offer car owners the option to include their vehicles into a Tesla car sharing fleet. There are already car sharing platforms enabling people to share their own cars, the difference is that Tesla plans involve an autonomous car fleet.
After being dropped off at their destination by their self-driving cars, if the owners choose to participate, the autonomous vehicles will drive themselves to the next passenger. Therefore, instead of being parked, the vehicles will be used by others and generate some extra money to their owners.
Tesla's platform will enable car owners to choose the profile of their car users, even allowing them to share the vehicle only with family members. Differently from GM which operates a fleet of its own cars, Tesla will count with the customers' willingness to include their vehicles into the sharing fleet.
Autonomous cars and digital connectivity are shaping the new mobility era and bringing new opportunities. Tesla's announcement is one more example of the car industry's attempt to adapt and test ideas for the future.  Read more about the future of mobility.
Image source: Reuters