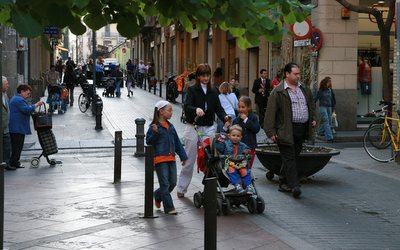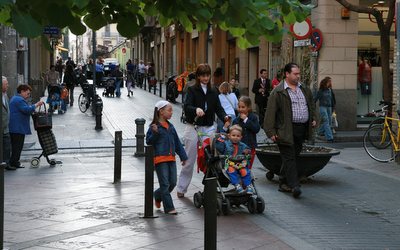 Modification of the basic road network and the differentiation of street use according to the mode of transportation are the two main characteristics of "Superblocks", an urban mobility solution that increases the availability and quality of pedestrian spaces. In 2003, Barcelona implemented its first Superblock in the Gràcia neighbourhood, and next year the city is going to expand the implementation of this concept, transforming 60% of its streets into citizen spaces, as reported by Co.Exist.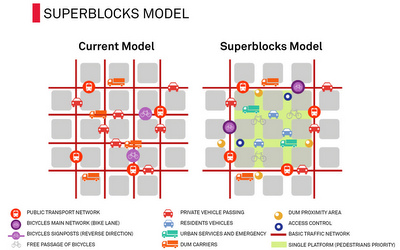 The Superblocks are polygon grids measuring 400 by 400 metres where non-resident traffic and above ground parking are not allowed. Only residents, urban services and emergency vehicles can drive within the Superblock at a maximum speed of 10km/h, while the regular traffic of other motorised vehicles and public transport flows in the perimeter of the area. This turns the interior of the Superblock into a safe, preferred zone for pedestrians and cyclists.
The Eixample neighbourhood will be the first one to go through this change, nine blocks will become one Superblock and the inner street intersections will be converted into city squares. The amount of usable public space in the region will increase by 268%.
The Superblocks will be implemented throughout Barcelona, but this is not an isolated effort to improve urban mobility. Barcelona has already expanded its bike lanes from 99 km to 270 km. In addition, the bus network has been designed in such a way that passengers need to make no more than one bus exchange to get to any point in the city, and each resident is at the most 250 metres away from a bus stop. The complexity of urban mobility issues demands a range of solutions to create convenience and to encourage drivers to adopt alternative transportation modes.
Image credit: BCNecologia and Co.Exist