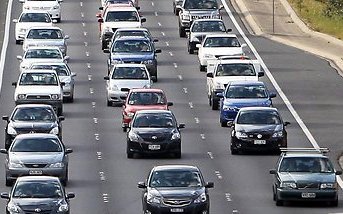 Adelaide is trialling a new system of traffic monitoring that picks up data from Bluetooth receivers in passing cars, and provides real-time traffic advisories to help drivers avoid congested areas.
The new technology has been developed by the SA Department of Planning, Transport & Infrastructure (DPTI), as reported in The Advertiser.  The Adelaide trial involves approximately 280 receivers (which cost approx $1,000 each) located on the major routes into the city, integrated into existing traffic signals.  The receivers count the cars which have Bluetooth installed and the data is used to estimate travel time between major destinations, which is displayed on roadside message boards, allowing drivers to choose the best route available.
Transport Minister, Stephen Mulligan stated, "This trial is unique in delivering up-to-the-minute data for motorists, and we are keen to see if this provides advantages over other existing sources of traffic information."
The DPTI Travel Time System received an Award of Excellence at the AITPM conference in Adelaide last week (our Senior Traffic Engineer, Andrew Morse, attended and presented one of the sessions).  The SA Government's submission can be viewed here.