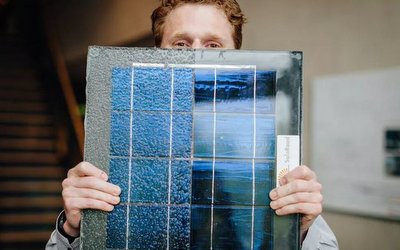 In the Netherlands the first SolaRoad will open this week. The SolaRoad experiment is using a 100 metre stretch of cycleway to test whether solar power generated from these types of roads could "eventually be used for street lighting, traffic systems, electric cars and even households."
With 35,000 kilometres of cycleways and over 18 million bicycles (1.3 per citizen) the Netherlands is well placed to innovate and experiment with creating multipurpose cycleways.  However, the idea of using roads to generate solar power recently had a boost in the U. S. with over $2.2mn being crowd funded to commercialise the solar roadways concept.
The 100 metre stretch of cycleway is made up of concrete modules which have solar cells embedded in one half of the road.  One of the main technical challenges for the consortium behind the pilot project was to develop tempered glass which could both act as a road surface and also repel dirt to stay as translucent as possible. The SolaRoad will undergo testing for three years.