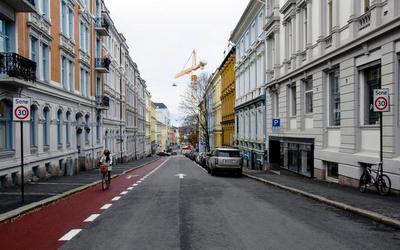 In the post Oslo cuts on-street parking, we presented one of the city's initiatives to meet its plan of having a car-free centre by 2019. To discourage car usage in the short term, the city opted to promote high-impact and low-cost improvements for cyclists and pedestrians by reducing on-street parking.
Although the measure seemed to be easily executed, local residents are not happy with the lack of parking. According to The Guardian, car owners' resistance with the city's plan aligned with the opposition of the local trade association, the Oslo Handelsstands Forening (OHF), who believe that the measures will have a negative impact on the city.
It is not surprising that local residents are against plan. In our experience, people tend to see on-street parking as an extension of their homes as if they had an acquired right to park their cars in the public space.  As we have discussed in previous posts, it is not unusual either that business owners expect a negative impact on their bottom line when parking is restricted. Read more: More parking isn't always the answer, No parking, no business? and What's the impact of reducing parking spaces?.
Business owners tend to believe that most of their clients travel to their venue by car. However, we have seen that this is not always the case. In fact, sometimes cyclists, pedestrians and public transport users spend more than car drivers.
Creating car-free zones or even making difficult to drive in certain areas requires a great change on the city's transport network and most importantly on people's mindsets. Cities like Madrid, Paris, and Barcelona are implementing drastic changes and also facing opposition. In some cases, conducting tests or creating pilot areas helped to convince the population and local business owners that the changes would bring an overall positive impact.
Image credit: The Guardian, Agency for Urban Environment, City of Oslo