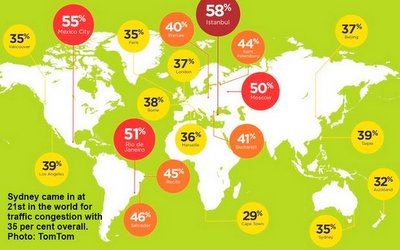 The Sydney Morning Herald recently reported a study by the GPS company TomTom which has named Sydney the most congested city in the Antipodes, and ranked it among the world's worst, coming in at 21st place.  Tuesday and Wednesday were determined to be the worst days of the week, and for every half-hour travelled at peak times, the average driver adds 24 minutes to their trip compared to free-flow periods.  All that adds up to an average of four full days a year stuck in traffic for Sydney drivers.
The NSW Roads and Maritime Services (RMS) have done their own studies and nominated the worst stretches of road that would best be avoided at morning peak.  The run from Balgowlah to Cammeray (our Sydney office) over the Spit Bridge (yes, the drawbridge, subject of recent blog post) has traffic moving at an average speed of only 20km/hr.  Eclipsing that, however, is the notorious stretch of the Princes Highway from Arncliffe to Haymarket which sees average speeds of only 10km/hr during morning peak!
Combine this news with reports that Sydney is growing at record rates and the situation looks decidedly grim.  With the population growing by a record 84, 230 people in 2013-4 and tipped to reach 5 million in the next year, what is the hope for relieving traffic congestion? Mike Baird has pledged $300 million to target those annoying "pinch points" that are crippling our city, but will this make a dent when racing against record growth figures?  Another complicating, concurrent factor in Sydney is the spiralling cost of housing which is forcing residents further out and invariably, this means additional time travelling to work.
Sourceable suggests that transport and urban planners make reference to the strategies employed by some of those cities further "up the TomTom list" such as Buenos Aires, Mexico City and Moscow. These cities are tackling congestion head on with broad and ambitious Sustainable Mobility strategies, encompassing rail, roads, buses, bicycles, pedestrian access and some "user-pays" systems for roads and parking. Hear, Hear!