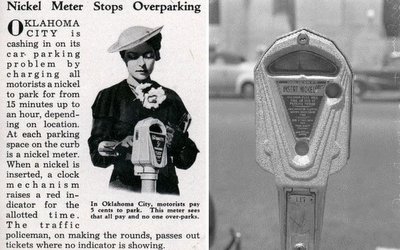 Parking meter technology has changed considerably in the last 10 years, but not much in the 70 years before that!  In case you were wondering (and even if you weren't), here's a brief visual history of the parking meter, as told by JNL Parking in the US.
The parking meter was first conceived in 1932 by Carl Magee, an attorney and newspaper editor from Oklahoma City (also Chairman of the Traffic Committee), as a solution to local street congestion.  Magee teamed up with engineers from the local university and created a working prototype.  The rest is history, as they say.
Within three years, the first meters were installed in Oklahoma City, charging 5 cents for up to one hour.  While residents were outraged at first (no one likes paying for something that was once free), reportedly opinions were swayed, as the meters brought a reduction in the city's congestion, as well as an increase in customers for local businesses.   Of course, city officials caught on quickly and saw that parking meters represented an attractive revenue source, and by 1951, there were reportedly more than 1 million installed across the US.
The clever Mr Magee started his own business manufacturing meters, originally called Dual Parking Meter Company (reportedly meaning that they offered parking control plus revenue generation).  The company name was eventually changed to Magee-Hale Park-O-Meter, and then later shortened to POM.  The company is still manufacturing meters today.
Along with the first parking meter comes the first parking ticket – this honour was bestowed on Reverend C.H. North when he unwittingly left his vehicle to find some change for the new-fangled Park-O-Meter in Oklahoma City.  He was also the first to plead the "I went for change" excuse to the judge, and his ticket was dismissed.