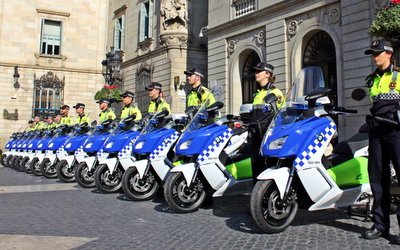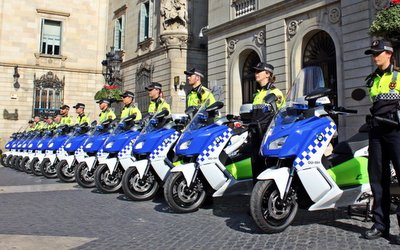 Barcelona Police have taken delivery of a new fleet of 30 electrically powered scooters, giving them efficient, zero-emission mobility around the city.  Already a leader in sustainable mobility, Barcelona was the perfect partner to showcase this fleet of fully electric scooters, manufactured by BMW. As reported recently on BMW Blog, this is the first fleet of electric scooters to be utilised for law enforcement.
The BMW C evolution scooter is identical to the regular commercial model, with a few modifications – a raised screen for protection and a public address and signalling system.  For those interested in the performance details, the scooter is capable of 11KW of continuous output with a maximum of 35KW.
BMW, Guenther Seemann, President of BMW Group Spain presented the keys to Mayor Xavier Trias.
 "The delivery of this fleet is a special achievement for the BMW Group for two main reasons: it is the first fleet of electric maxi scooters worldwide to be supplied and secondly the recipient is the city of Barcelona – a role model in Europe when it comes to two-wheel mobility. At the BMW Group we believe strongly that the future of urban mobility will be shaped in the next few years by cities with minimum emissions," said Seemann.