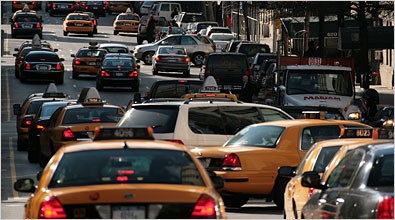 Is penalising Uber the way to limit congestion on NY's streets?
According to the NY Times, traffic congestion in Manhattan is getting worse, rather than improving.  The average daytime speed of cars in Manhattan's business districts "has fallen to just under 8 miles (12.9 km) per hour this year, from about 9.15 miles (14.8 km) per hour in 2009", said the Editor.
Mayor de Blasio's office tried to blame car services like Uber for the impact on congestion and was proposing to cap their growth for up to a year.  With an increase in the number of for-hire vehicles, a massive jump of more than 63% since 2011, the administrators at the Mayor's office,  seemed  convinced the likes of Uber are clogging Manhattan traffic, see NY Times
If this way of thinking was to be approved by the City Council, "Uber would have only been able to increase its license count by 1%, or 200 cars, in a year's time", according to today's issue of money.cnn.com.    Not only would this impact on the company's growth and employment numbers; not only, but residents living in the outer areas of NYC would continue to have limited transport options.
However, Uber is not off the hook yet with the Mayor's office indicating it would take up the issue again after completing additional studies on traffic congestion and impact on drivers.
Is this not just a band-aid solution to an ongoing and very complex problem, considering the use of the subway is at its highest level in 65 years?  As reported in the NY Times, more than 1.7 billion people rode the subway last year.  That is a 2.6% increase from 2013.
Other ideas, have been put forward to address the issue.  Move NY has suggested raising the surcharges on metered-taxi rides and applying similar surcharges to rides in cars affiliated with Uber.  These fees could be fairly implemented across the city where congestion is at its worst.  Taxi and other for-hire cars would benefit since they would spend less time stuck in traffic.  The added income for government bodies could be used to support better subway and bus services, which just may be the best way to fight NYC's congestion problem.