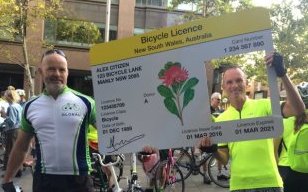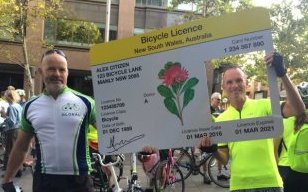 From the 1st March, NSW bike riders will be faced with a bevy of new and increased fines.  Riding without a helmet will increase from $71 to $319, riding without ID will cost $106 (abc.net.au),  while the penalty for running a red light will increase to $425, according to the SMH.
The City of Sydney estimates the number of people riding within its boundaries has doubled over the past five years.  With a jump in the number of cyclists there is bound to be greater attention to safety issues.  But with all matters of regulation, there is a fine line between protecting the community and raising revenues. Discontent is not just amongst cyclists themselves, but also by property developers and large corporate organisations.
Property owners are worried that the increased emphasis on fines will impact on current development of end of trip facilities in building basements.  Millions of dollars are being spent to increase the size and quality of end-of-trip facilities to cope with the higher level of demand for cycling facilities.
Over at Arup Australasia, who actively promote ride to work days and support cyclists with "bigger and swankier changing rooms and showers" the feeling is that the introduction of the fines is likely to act as a barrier to more people taking up cycling.  As Marianne Foley, principal at Arup indicated, "we actively promote riding to work because cycling is key to an active and sustainable transport system", SMH.
Roads Minister Duncan Gay is standing firm with the new bike fines which, according to him, are lower than those in other states.  For Mr Gay, "the key to what we are doing is saving lives.  We are putting deterrents there to make people wear helmets, not run lights and be careful where they are interfacing with other traffic", he said.
The need for motorists to provide at least a metre gap between vehicles and cyclists will also be enforced.
Will these new laws put us further behind the Copenhagen dream?