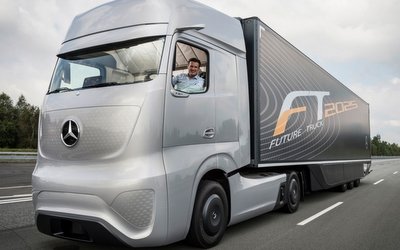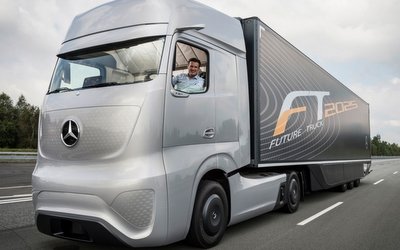 Self-driving cars have been in the news for some time, but Mercedes Benz has just taken it up a notch with concept designs for an autonomous truck (semi) that aims to revolutionise the transport industry, reports Wired.  The focus is on safety and addressing the cause of many trucking accidents by putting computers in control.
The Future Truck 2025 is equipped with the "Highway Pilot", an automated driving system which is designed to eliminate the human elements often responsible for trucking accidents.  Daimler board member for trucks and buses, Dr. Wolfgang Bernhard, explains, "It never gets tired. It's always 100 percent and sharp. It's never angry; it's never distracted, so this is a much safer system."
Highways are much easier than cities in terms of programming autonomous driving – steady speeds, minimal turning, no pedestrians or cyclists.  The "Highway Pilot" system uses cameras and radar to maintain lane position and following distance, while sensors provide full coverage of the truck's surroundings.  Vehicle-to-vehicle technology (subject of a recent blog post) will also be incorporated, allowing vehicles to "talk" to each other by exchanging basic safety data, such as speed, position and projected path.
The Future Truck 2025 was unveiled at a recent commercial vehicle conference, but isn't expected to be ready for market for at least a decade, hence the 2025 moniker.